Mission 
Mid America Games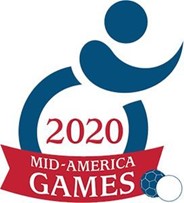 Accessible Sports in Greater Kansas City(AS-GKC) is a partnership of more than 25 diverse organizations, agencies and businesses in the bi-state metro area that wants to increase access to sports and recreation for people of all ages and with all types of disabilities.  We promote a spirit of healthy competition for athletes with a variety of physical disabilities including Cerebral Palsy, Muscular Dystrophy, Spina Bifida, spinal cord injury, amputees and many other conditions. Even though we endeavor to create a fun and supportive atmosphere and offer social events tied to our Games, we are proud to have hosted many athletes who have competed at the National, International and Paralympic levels. Our primary focus the last several years has been Boccia and Bowling
Contact Person: Joe Dold
Email: joedold@gmail.com
Phone: 816-582-4024
Address: P.O. Box 1342 | Mission, Kansas 66202-1342
Website: Mid America Games
Mid America Games Facebook 
Special Olympics Kansas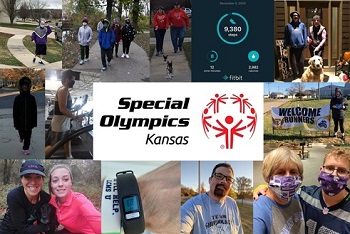 Special Olympics Kansas (SOKS) provides year-round sports training and athletic competition in a variety of Olympic-type sports for children and adults with intellectual disabilities (ID), who are referred to as athletes. SOKS is located in Mission, KS but reaches throughout the state of Kansas, to provide the following:
Health and Fitness Opportunities
SOKS provides Year-Round Health and Fitness opportunities for athletes, parents, family members, etc. to build healthy habits and feel encouraged by a community.
Virtual Health and Fitness
SOKS provides weekly live health and fitness sessions on Zoom and Facebook Live for athletes, family members, coaches, etc.
Parent/Caregiver/Volunteer/Coaches Health Education
SOKS invites our sports coaches, family members, and volunteers to participate in an online fitness training course with the tools and resources to help improve athletes' lives.
Health Resources
Athletes might receive referrals for follow-up care from any of the Healthy Athletes screenings.
We have created a Directory with contact information of Providers, who have signed an application agreeing to screen individuals with ID.
The Healthy Athletes of Kansas
This Facebook group allows athletes and families to encourage and support each other.
Contact Person: Jesse Lyle
Email: lylej@ksso.org
Phone: 913-236-9290
Address: 5280 Foxridge Drive | Mission, KS 66202
Website: Special Olympics Kansas
The American Stroke Foundation's Next Step Program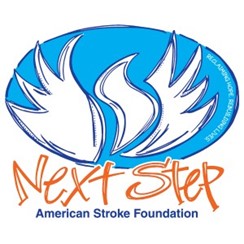 The Next Step Program aims to maintain and improve the health, wellness, and participation of individuals who have moved beyond their stroke and wish to take their next steps in life. Health professionals develop targeted actives within four primary areas to address participants' goals: Communication, Health Behaviors, Life After Stroke, and Physical Fitness. Participants must fulfill basic personal needs (e.g., eating, using the restroom) or be accompanied by a caregiver who can assist them. Socially appropriate behavior is also required. The program fosters a collegial family atmosphere.
Phone: 913-649-1776
Address: Sylvester Powell Jr. Community Center
6200 Martway | Mission, KS 66202
Website: American Stroke Foundation
Olathe
A.W.A.R.E.
A.W.A.R.E. is a social group for adults with autism (ages 18+) who are able to participate in group settings without supervision. This group meets for monthly, low-cost outings throughout the metropolitan Kansas City area. Types of activities include going to ball games, playing miniature golf, and playing board games at favorite eating establishments. Attendees are expected to provide their own transportation.
Contact Person: Mary Topi
Email:  ashofficemgr15@gmail.com, awareevents16@gmail.com, ashofficeasst@gmail.com
Phone: 913-706-0042
Address: Autism Society-The Heartland P.O. Box 4455 | Olathe, KS 66063
Website: A.W.A.R.E.
Overland Park
Turkey Creek Streamway Trail
This paved, easy, multi-use trail spans from 75th Street to Antioch Road and goes by Turkey Creek, a butterfly garden, and several parks. The trail is primarily used for walking, running, bird watching, and road biking and is best used from March until October. Dogs are welcome on this trail but must be kept on leash. The trail surface is paved, and it is typically at least six feet wide. It is gentle with an estimated average grade of 2% and a max grade of 3%. Most wheelchair, mobility equipment, and stroller users will find this trail navigable.
Phone: 913-722-8200
Website: Turkey Creek Streamway Trail
Stilwell
Stilwell Community Park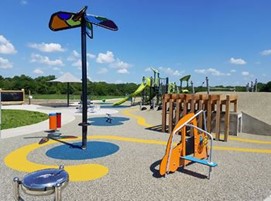 Stilwell Community Park features JCPRD's first inclusive playground, which enables everyone to play together without physical or social barriers. The park also features a one-mile looping paved trail. The trail crosses over Camp Branch Creek and traverses a wetland, grassland, and riparian woodland. The trail will ultimately serve as the southern access point to the future Camp Branch Streamway Trail. Stilwell Community Park also offers picnic shelters with tables that are wheelchair friendly.
Phone: 913-686-6220
Address: 6402 W. 207th Street | Stilwell, KS  66085
Website: Stilwell Community Park