Iola
Missouri Pacific Recreational Trail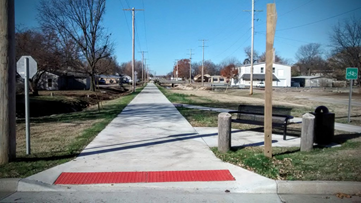 Opened in 2015, the Missouri Pacific Recreational Trail (or Mo-Pac Trail) is a half-mile multi-use pathway located in Iola, Kansas. While short, the trail nonetheless provides valuable connections: it connects to the Prairie Spirit Trail at mile marker 109. The Prairie Spirit Trail spans an impressive 51 miles in total, beginning in Iola and terminating at its southern trailhead in Ottawa, Kansas. The concrete path is 10 feet in width for most of its length, with a three-block portion from Jefferson to Cottonwood Street being a 5-foot path alongside on-street bicycle lanes. This trail begins to be paved with concrete at Colborn Park between Elm and Cottonwood Streets until its terminus at the Prarie Spirit Trail. From the trail head until Colborn Park, the trail is packed dirt, grass, and sidewalks. The estimated width of the entire trail is 4-9.5 feet. The slope is estimated to range from flat to gentle at 0-3% grade.
Email: info@thriveallencounty.org
Phone: 620-365-8128
Address: The Missouri Pacific Recreational Trail is located just north of Iola's downtown square, and there is ample parking on the square and in public lots around the square.
Website: Missouri Pacific Recreational Trail 
Thrive Trail- Southwind Rail Trail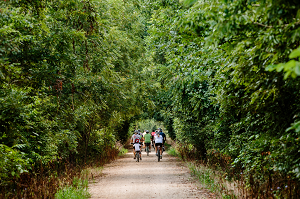 The Southwind Rail Trail is a scenic 6.5-mile trail that connects the two largest communities, Iola and Humboldt, in Allen County. You will see a beautiful historical bridge, wildlife, and more. The Southwind Rail Trail connects to the 51-mile Prairie Spirit Trail in Iola, for an uninterrupted 58-mile route through southeast Kansas. The Southwind Rail Trail is open every day from dawn to dusk. It is free to the public for bicycling, walking, and wheeling. It is a gravel trail, covered with limestone screening, which provides a stable surface for all to use. It is level throughout and almost entirely straight, with only a few very wide curves.  The Southwind is lined with trees that provide shade and a windbreak for visitors on even the most blustery Kansas days.
Email: info@thriveallencounty.org
Phone: 620-365-8128
Address: 9 South Jefferson Avenue | Iola, KS 66749
Website: Southwind Rail Trail